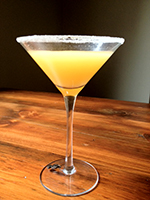 We love to entertain, especially around the holidays.  Whenever we get invited to a party I make homemade eggnog to bring as a hostess gift.  It's very tasty but not so great for the waistline.  This past Christmas I wanted to make something a bit lighter for the gang of people coming over for some Christmas cheer.  Looking around my kitchen I spied a bowl of clementines that I had planned to use as a centre piece.  I dumped the bowl and started juicing.  I added a splash of lime, Cointreau and dark rum and "the Clementine" was born.  Big hit at the party.
The Clementine
½ cup(125ml) freshly squeezed Clementine juice
Juice of ½ a lime
2 ounces (60ml) dark rum
1 ounce (30ml) Cointreau
Combine all ingredients over crushed ice in a cocktail shaker.  Shake vigoursly and strain into 2 sugar rimmed martini glasses.