Today I came home after a long day on set to find my neighbours setting up a large meat grinder in their driveway.  I know that sounds strange but here is a little background on my neighbours: they have what I can only describe as an urban farm in their yard.  They grow all kinds of herbs and veggies including tomatoes, cabbage, kale, beans and pumpkins.  They even keep several chickens.  We trade a lot of food back and forth, especially when I have a bunch of recipes to test.  I am always interested in what they will come up with next. Today was no exception.  I found them making sausage, grinding pork butt and spices into casings…in their driveway.   They had recently purchased a smoker and wanted to test it out.  I have to confess that I was a bit jealous of both their enthusiasm and the fact that there was going to be fresh sausages coming out of the smoker in a matter of minutes.   Of course I did the only thing I could think of: quickly got to work on a recipe for the sausage.
Rapini and Sausage Pasta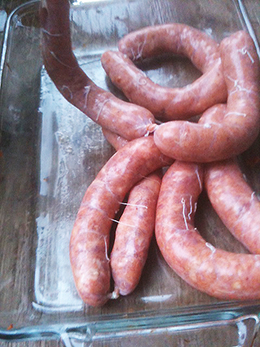 1 bunch rapini, washed, trimmed of tough stems and roughly chopped
3 cloves garlic, minced
1 tbsp olive oil
4 or 5  hot or mild Italian sausage links, casings removed
6 sundried tomatoes packed in oil, thinly sliced
1 lb rigatoni pasta
Salt and freshly ground pepper to taste
Cook pasta according to package directions.
Meanwhile blanch rapini in a large pot of boiling water for 1-2 minutes.  Drain and rinse under cold running water for 1 minute.  Set aside.
Heat oil in a large sauté pan set over medium-high heat.  Add sausage, breaking apart the meat with a wooden spoon.  Sauté until well browned, about 5 minutes, stirring occasionally.  Add garlic and sauté, stirring constantly until garlic is fragrant, about 45 seconds.  Add blanched rapini, salt and pepper stirring to combine.  Allow mixture to cook until rapini is softened slightly, about 4 minutes.  Add sundried tomatoes and heat through.  Drain pasta and return to pot.  Add rapini mixture to pasta and toss gently to combine.  Serve warm with grated Pecorino Romano if desired.
Serves 4